Learn more about headlight restoration, signs that your headlights need fixing, and situations where replacement may be necessary.
When we think of safe driving, seatbelts are the first thing that comes to mind. Though they are very important, safety doesn't end there!
The headlights are another thing that needs your attention. More than a stylish appearance, the state of your headlights affects the quality of the lighting they provide.
And headlights are not only for nighttime. They're also fundamental during the day, keeping you safe on roads, preventing accidents, and saving lives.
Unfortunately, most headlights today are made of plastic, leaving them susceptible to damage from pieces of stone on roads that come loose or crack off over time.
While you may be paying attention to the space around your car when driving and parking, there's no way to predict how your fellow drivers will behave. Some damage is unpreventable.
Plus, the polycarbonate plastic used to make headlights is directly exposed to UV rays and environmental chemicals.
Considering all these factors, it's not hard to understand that keeping your headlights restored is a big part of staying safe.
Read more: Paint Protection film: Here's what you need to know before installing
4 signs that you need to have your headlights restored
Being aware of these signs will help you know when it's time to start worrying about restoring your headlights. If you spot any on your car, call an expert!
1. Yellowish light
If the headlights are yellowish or there is any other noticeable discoloring.
2. A cloudy appearance
If your headlights still have that cloudy look after proper sanitization.
3. Cracking or fissures
If there are any cracks or scratches that affect the performance of your headlights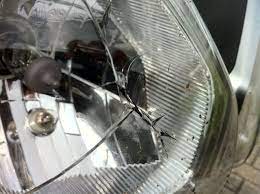 4. Dimness
If your headlights don't light up the road ahead as they should.
Are you enjoying this article? You may also like: The essential guide to car wrapping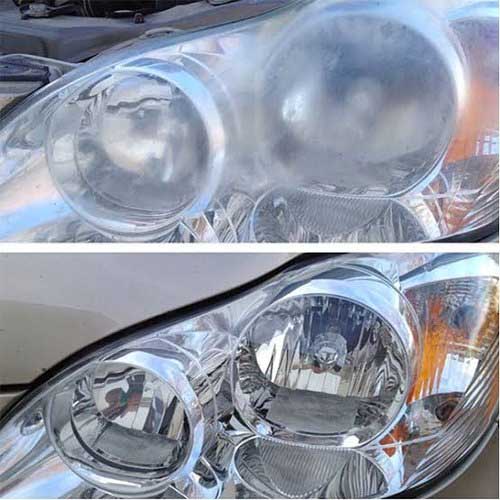 Here's when to get your headlights restored
After noticing your headlights are damaged, there are two ways to solve the problem:
Replace them;
Hire headlight restoration professionals.
While restoration is a viable option in most cases, it may be best to replace your headlights if they have suffered irreversible damage.
But if your headlights are showing signs of natural wear and tear, restoration is the most cost-efficient.
Here's how headlight restoration works
If your headlights start looking yellowish and cloudy, a good scrubbing might not be enough. It's time to call in a trained team of professionals and get your headlights restored.
They've got the techniques to get rid of any blemishes under the plastic.
The first step is to clean the headlights thoroughly. The areas around them are covered to protect the paint and metal.
Special equipment is then used for sanding to remove any faded spots or corrosion on the plastic. Once that's done, it's time to polish the headlights and get that perfect shine back.
Dull or faded headlights may seem like nothing more than an aesthetics problem, but they pose a major threat to your safety. In some cases, replacing the plastic surface and bulbs may be enough.
How can I protect my headlights?
Headlight tinting means applying films to headlights to darken them or change the color. Headlight tints can radically change the look of your car with a quick and practical installation. Films can also shield car lights from damage, scratching, chipping, or road debris.
And since most tints are highly resistant to UV rays and heat, installing them will prevent your lights from turning yellow, getting dirty, or fading.
Want to know more? Read: Everything you need to know about headlight tint
Where can I get headlight tints in Massachusetts?
We have over 30 years of experience in window tint application at Pelicar and the technology needed to install the film you want with the practicality you need.
Our team is also standing by to answer any questions you may have about headlight tint regulations in the state of Massachusetts.
Click here and request an estimate!