Learn about the cost-benefit of each and how to choose the one best suited to your needs.
Car window tinting has loads of benefits for drivers and passengers. You get temperature control and protection against UV rays, plus more privacy and security for yourself and your items.
Film types can vary in color, material, and price, which is why it's so important to do your research before you choose. Then, you can be sure to get the type that best meets your needs while sticking to your budget.
In this article, you'll learn about different types of window tints and what they offer.
5 types of car window tint
1. Dyed Window Tint
Dyed window tints are the most coveted by car owners looking for a change of style. While it's true that these tints are much cheaper than others, we can't help but consider that they lack the quality of other films.
And they don't do anything as far as comfort for your eyes while driving either.
If you can invest a little more, it's best to pick tints that can offer more protection for you and your loved ones.
2. 3M™ Automotive Window Film Obsidian Series
With their stunning design and cutting-edge technology, the 3M™ Automotive Window Film Obsidian Series is high performance at an affordable price.
3M™ Obsidian automotive window films are non-metallized, dyed polyester films with an acrylic pressure sensitive adhesive and an abrasion resistant coating.
But once we look at the datasheet, it's clear where 3M™ tints get their reputation. The Obsidian Series tints block 99% of UV rays. And compared to other films in the same category, they are long-lasting and more effective at color retention and heat rejection.
Here's what this film has to offer and the shades you can get it in.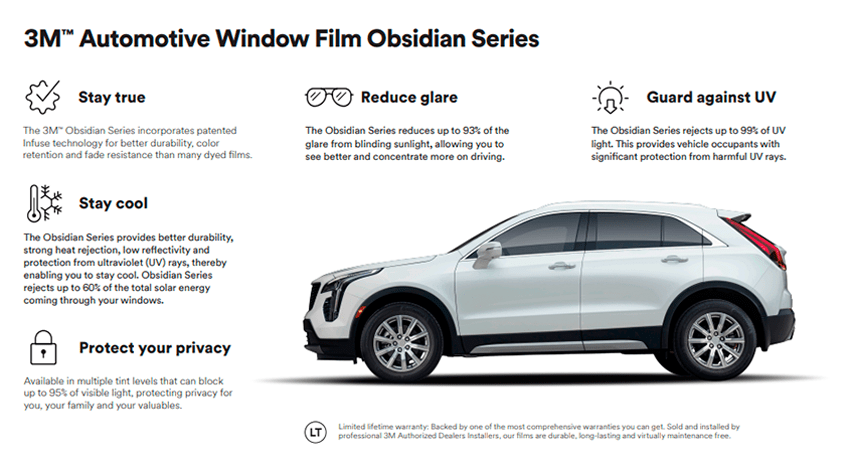 3. 3M™ Automotive Window Tint Color Stable Series
When it comes to window tint, privacy and style don't have to be at odds. And the Color Stable Series is proof!
These tints are designed with state-of-the-art nano-carbon technology, giving you thermal comfort, shielding against UV rays, and providing privacy and safety for your family. And the color won't fade or turn purple like some other films.
Looking for more? Since the Color Stable Series is non-metalized window film, it also won't affect the signals of your electronic devices.
4. Ceramic IR window tint
If you don't want to give up high performance or a customized design, ceramic window tint is for you!
Developed with small, highly non-conductive, ceramic-based particles, this tint won't interfere with signals from cell phones, WI-Fi, Bluetooth®, or other devices.
Ceramic window tint will block 50% to 95% solar radiation without hindering visibility. Another advantage is its outstanding resistance to shattering, dulling, or fading.
3M™ Automotive Window Film Ceramic IR Series
If you're already hooked on the benefits of ceramic window tint, wait till you learn about the Ceramic IR Series. You won't want any other brand!
"But what's the difference?" you might be wondering.
We'll just say there are two types of ceramic window tint: regular and ceramic IR. The main difference is while the first only protects you against UV rays, Ceramic IR also blocks Infrared rays.
It may seem like a mere detail, but prolonged exposure to IR rays causes eye redness, swelling, and other symptoms. It also leaves you vulnerable to conditions like skin cancer.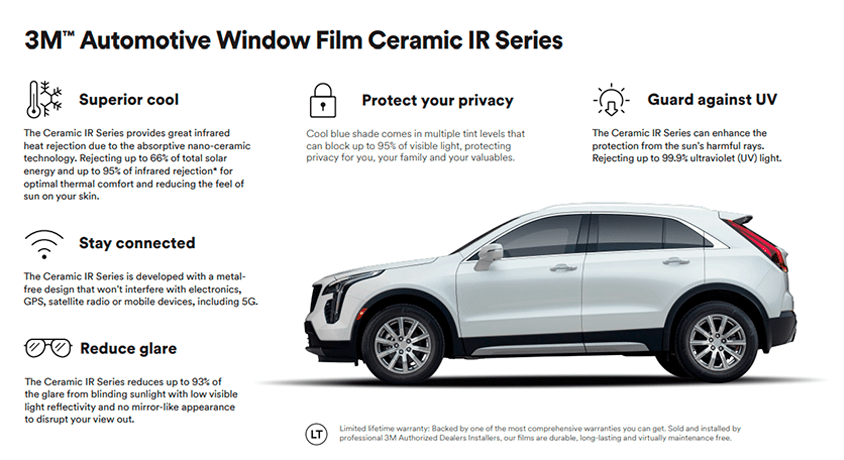 5. 3M™ Automotive Window Film Crystalline Series
When it comes to window tint, many drivers in Massachusetts are willing to invest in resistant, high-quality films, even if they cost a little extra. Most end up opting for Crystalline window tint.
For one, Crystalline offers more comfort, protection, safety, and durability than any other brand.
The 3M Crystalline film series has a higher heat rejection than other dark films, perfect for temperature control. It also blocks up to 97% of infrared rays, shielding drivers and passengers through a sun protection factor (SPF) of 1,000.
And you won't have to worry about not seeing clearly. Crystalline window tint is a combo of transparency, visibility, high performance, and heat reduction.
As there are no metals in the formula, the film doesn't affect phone signals, GPS, or internet connectivity in the car. It also won't corrode from exposure to the elements. And all of these benefits are combined with high transparency.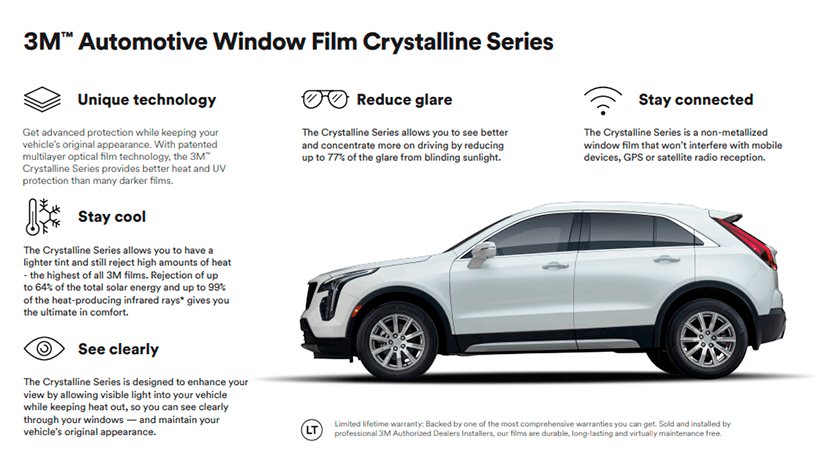 Find the perfect window tint for your car
Still not sure which window tint is the most cost-effective for you? Don't sweat! You can speak to one of our window tinting experts at Pelicar. Click here and drop us a line!
Window tint isn't the only thing that will help keep your car safe! You can increase your vehicle's durability and resale value by investing in high-quality car wrapping.
Don't forget to check out these articles for more: