Did you know you can tint the headlights of your car too? That's right! Tinting isn't just for the car body painting and windows. There's a range of types, compositions, and colors for headlights. Here's what you should know about headlights tint before you choose a shade and model. 
What are headlight tints?
Headlight tinting is covering vehicle headlights with film to darken them or change their color. If you appreciate originality and love customizing every detail of your car, these are for you.
Headlight tints can completely change the look of your vehicle, with a quick and agile application. The film protects your lights from road debris, preventing scratching, chipping, and denting.
Like most tints, they are highly resistant to UV rays and warm temperatures preventing the lights from yellowing, getting dirty, or wearing out.
The main types of headlight tints
Before we look at different tints, keep in mind that your headlights need an intense white or yellow glow to be seen from a distance.
So besides giving your car that stylish look, the right shade makes sure you get enough brightness and observe the laws in your state.
Tinted PPF
Shield your headlights and taillights, and add style with this colorful protective film. Elevate the look of your car without losing any brightness. They're perfect if you're looking for quality.
Mid-shade tint
Its 75-micron composition is just the thing for headlights and lamps. Available shades range from light to mid-shade, some darker than PPF. The quaitty of protection is not as high, though.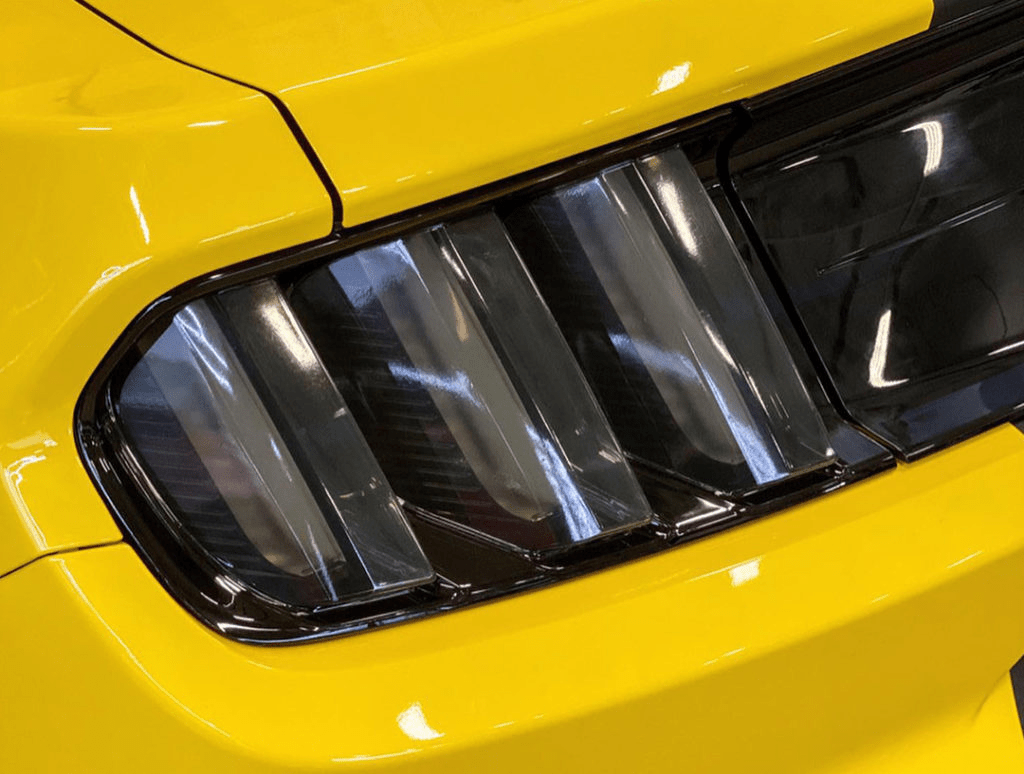 Dark shade tint
This darker film is recommended for tail lights. It blocks out too much light making it illegal for headlights.
Coloured Tint
If you like playing around with style, colored tints are great for innovating without breaking the bank. But even though they come in a range of colors, they're illegal in some states. Check out local regulations or talk to an expert to find out whether the film you want is legal.
How long do headlight tint last?
That depends on the film. Standard tint films can last from two to three years, while colored PPF can make it to 10.
But that doesn't stop you from switching to a lighter shade or different type of film before. Here at Pelicar, we change and remove films, keeping the risk of damage at a minimum with the right techniques.
Pros and Cons of Headlight tint
Pros of Headlight tint
Films are a high-quality shield for your headlights, preventing chipping, scratches, and dents caused by loose stones and other road debris.
They offer extra protection from UV rays, which cause the lights to look blurred over time).
Any pre-existing scratches, cracks, or dents will become less noticeable.
You can elevate your style at a lower cost.
Cons of Headlight tint
Films that are too dark affect visibility and are illegal in most states. Consult an expert first.
A low-quality application can leave your car looking less than ideal, even if the film is premium. Consider making an appointment at a pro shop.
Can you have tinted headlights in Massachusetts?
That depends on what you're planning to change. Massachusetts law says it's illegal to modify headlights and tail lights unless you're optimizing visibility or safety.
So as long as modifications don't hinder visibility and signaling when driving, it won't be a problem.
There are only restrictions for darkening lights and changing the lamp color.
Headlights or lights of any other color than white or yellow (and in some cases, red) – are not recommended. Any visible light projected ahead of the vehicle should be white or yellow.
Where to get tints for your headlights in Massachusetts
Pelicar has over 30 years of experience with tinting and state-of-the-art technology to install the tints you want with the agility you need.
Our staff is prepared to answer any questions about regulations for headlights in MA.
Request your estimate here!